Our staff's commitment to you
All great businesses share a common trait - people make the difference. The caring associates at Chopyak-Scheider Funeral Home, Inc. have been serving the community one family at a time. Below you will find bio's on each our knowledgeable and dedicated staff. Please feel free to contact any of us, we're always here to help.
---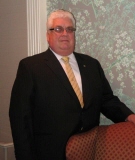 William J. "Bill" Scheider
Funeral Director
Bill@chopyak-scheider.com
For over forty years, the Chopyak-Scheider Funeral Home, Inc. has been operated and managed by William J. "Bill" Scheider. Bill married the former Nikki Ann Prorok of Binghamton in 1980 and resides in nearby Johnson City. They have a daughter, Leigh Ann, who works and resides in the New York City area. Bill was raised in Endwell and graduated from the Maine-Endwell School System. He earned his B.A. in Sociology from Hobart College in Geneva, N.Y.

Following his graduation, Bill completed the course of study offered by the Simmons School of Mortuary Science in Syracuse, N.Y. After serving his apprenticeship with the Edward Carter Funeral Homes in Montrose and Croton-on-Hudson, N.Y., Bill received his New York State Funeral Directors license in 1978 and returned home to join the family business.

Since purchasing the business in 1981, numerous improvements to the facility have been made, as well as expansion of the services available. Bill has attended numerous seminars to maintain the high caliber of compassionate care he provides. Following is a short list of accomplishments:
Healing Heart Center Bereavement Counseling Training, Minneapolis, MN
Lifespring Seminars, Basic and Advanced
Assistant Presenter at the Dodge Company Embalming Seminars in Syracuse, NY
Life Appreciation Training, Basic and Advanced, Syracuse, NY and Atlanta, GA
Numerous Professional Seminars and Programs
Thanos Institute Study

Throughout his career, Bill has utilized his spare time to benefit the community in which he lives and works. The following is a partial list of his community involvements:
Member of National Funeral Directors Association
Member of New York State Funeral Directors Association
Member of Broome County Funeral Directors Association
Member of St. Michael's Greek Catholic Church, Binghamton
Member of SS Peter & Paul Russian Orthodox Church, Endicott
Member of Binghamton Breakfast Rotary Club
Member of Round Hill Lodge #533 F. & A.M.
Member of Otseningo Bodies A.A.S.R.
Member of Kalurah Shrine
Board Member of Worker's Compensation NYSIG
Past President of Binghamton Breakfast and Johnson City Rotary Clubs
Past Master of Round Hill Lodge #533 F. & A.M.
Recipient of the Mason of the Year Award
Past President Orthodox Square Club Central New York Chapter #8
Recipient of the Orthodox Square Club Person of the Year Award
Former Treasurer for several years for Binghamton Breakfast Rotary Club
Multiple Paul Harris Fellow Award and Benefactor Rotary International
Former Member of The National Hospice Association
Former Board of Director and Treasurer of HALos ("Help After Loss" Benevolent Support Group)
Former Board of Director of the Johnson City Senior Citizens
Honorary Member of the Union Volunteer Emergency Squad
Former Commissioner of the Overbrook Recreational Complex, Johnson City
Life Member of Hobart Statesmen Athletic Association
Former Director of The Southern Tier A.I.D.S. Program
Former Member of the Broome Community College Foundation

Bill has also provided over one hundred lectures to church, school, and community groups on many funeral-related topics. We welcome your questions and comments and the opportunity to personally discuss your wishes and provide quality service when the need arises.
Nikki Scheider
Office Manager
Nikki Ann Scheider was raised in Binghamton. She graduated from Binghamton Central and went on to earn her Bachelor of Arts in Education from Cortland University and her Masters in Education from Binghamton University. Nikki retired in 2017 from the Johnson City School System after forty years of dedicated service as an elementary teacher. She actively joined her husband in the family business and adds her compassion for assisting others.