Obituary for Dr. Richard Michael Bedosky Sr.
Dr. Richard Michael Bedosky, Sr. DDS

Dr. Richard Michael Bedosky, Sr., DDS, of Binghamton, NY, passed away unexpectedly on Thursday evening, the 21st of December 2017. Dr. Bedosky died in his home, of natural causes, with his Little Buddy Tino at his side. He was 87. A man whose heart, humility, and spirit have touched so many lives, words fall short of suitably describing Dr. Bedoskys life and his impact on the community and those who loved him.

Dr. Bedosky is survived by his eldest son and daughter-in-law, Richard and Dr. Teresa Bedosky, Jr.; his daughter and son-in-law, Lisa and Alex Kaczynski; his youngest son, Matthew Bedosky and Brynne Calleran-Bedosky; four grandchildren, Richard III, Adam, Max, and Jack; and his brother, Dr. John George Bedosky, Jr., DDS. Dr. Bedosky was predeceased by his deeply cherished wife of nearly 52 years, Helen Jane Bedosky; and his parents, John George and Mary Sharak Bedosky, Sr.

Dr. Bedosky was born into humble beginnings on December 9th, 1930. He and his brother Dr. John, Jr., one year Dr. Bedoskys senior, were raised in a working-class family on the West Side of Binghamton, the grandchildren of Pennsylvania coal-miners and the sons of an Endicott-Johnson Shoe Company factory worker. Their father, John, Sr., a former coal-miner himself, worked tirelessly at E-Js to support their family, at one point earning just $12 per week. Their mother, Mary, a talented seamstress and homemaker, was the foundation of strength from which the Bedosky family grew. Together, their parents instilled in Dr. Bedoksy and his brother the values of family, respect, determination, and a strong work ethic qualities which would become the cornerstone of Dr. Bedoskys character and future successes.

Throughout the brothers childhood, two of their parents principles especially motivated, inspired, and shaped them: 1. Always take care of family, and 2. Pursue a college education. Growing up without two nickels to rub together, a phrase fondly remembered as one of their parents favorites, Dr. Bedoksy and Dr. John, Jr. took advantage of every opportunity to pull their weight within the family shoveling coal, collecting cinders, and working their uncles garbage trucks. At the same time, they also flourished in academics and athletics, both demonstrating impressive talent as high school football players and Dr. Bedosky earning the title of All-Star Center while playing for the Binghamton Bulldogs. With their mothers unwavering support and encouragement, the brothers were driven to advance their education. Despite having once been told by a teacher that they were not college material, Dr. Bedosky and Dr. John, Jr. were both accepted to, and continued to flourish at, Ohio University.

Ever-determined, Dr. Bedosky committed himself to his studies at Ohio University intent on finishing at the same time as his older brother. With laser focus, he succeeded; and, in 1952, Dr. Bedosky began his graduate education at The University at Buffalo School of Dental Medicine, a year early, with his brother. Their dedication and conscientiousness persisted at UB, where Dr. Bedoskys and Dr. John, Jr.s consistently high exam scores earned them the nickname The Golden Dust Twins. Bonded by their past and a shared vision for the future, the brothers were an inseparable team and shared everything textbooks, odd-jobs, and their oft-joked about used car, which they drove to-and-from Buffalo each winter without heat and with holes in the floorboard. Upon graduation, in 1956, Dr. Bedoksy and Dr. John, Jr. served in different military branches during the Korean War. Dr. Bedosky entered the Navy as a Lieutenant and Dental Officer assigned to the USS Intrepid, an aircraft carrier responsible for sparking his interest in flying. Never one to slow down, he returned home from the service in 1958, with the rank title of Captain, set on opening a private dental practice with his brother. Dr. Bedosky and Dr. John, Jr. converted the ground level of their childhood home into their dental office. To get by financially, while establishing their practice, Dr. Bedosky and his brother shared an employment slot at E.J.s United Health Services clinic providing dental care to E.J. workers. With steadfast resolve, they spilt their work days, each covering half the day at their office and half at the clinic. Before they knew it, their dental practice became a success that neither could have imagined. Dr. Bedoksy went on to practice dentistry, and provide meticulous care to the Binghamton community, for the next 40 years.

Around the same time that his practice was taking off, fate stepped in to introduce Dr. Bedosky to the love of his life, Jane Lazo, at the popular cocktail lounge, The Carlton, in 1962. With the same passion and conviction that had always driven him, Dr. Bedosky knew that she was the woman he wanted to marry. He described Jane, an Erie School of Dental Hygiene graduate, as possessing an infectious charm, smile, and personality. The couple was engaged the following summer and wed just three months later, on November 2nd, 1963, at Holy Spirit Byzantine Catholic Church. Their marriage was the beginning of a supportive and faithful partnership that would span over five decades; together, their love would bring three beautiful children into this world. Dr. Bedosky was dedicated to instilling in his children the same values that he himself held so dearly. He was devoted to his family and never wavered in his pursuit of providing them with the life and opportunities they deserved.

In the early 1970s, while managing their full-time practice, Dr. Bedosky and his brother embarked on a career in commercial development. Having overcome so many obstacles in their lives, the brothers success in dentistry had only further stimulated Dr. Bedoskys ambition. Putting their faith in the unknown, they purchased plots of undeveloped land in Johnson City across from the Oakdale Mall. Shortly thereafter, fate stepped into Dr. Bedoskys life once again when the New York State Department of Transportation announced its development of an interchange for New York State Route 17 directly facing their newly-acquired land. On the heels on that announcement, the brothers determinedly got to work. From the mid-1970s through the late-1980s, Dr. Bedosky and Dr. John, Jr. developed multiple properties, including Ponderosa Steakhouse, Long John Silvers, Chi-Chis, Friendlys, Court Jester Athletic Club, Best Western Hotel, and La Quinta Inns & Suites. Dr. Bedosky went on to expand the Court Jester Athletic Club with his children in 2005, opening a second location in Binghamton. Most recently, in 2011, Dr. Bedosky and his children unveiled a beautiful second La Quinta Inns & Suites property in Verona, situated across from Turning Stone Resort & Casino.

Though he will undoubtedly be remembered and revered for his many entrepreneurial accomplishments in dentistry and commercial development, Dr. Bedoskys 1966 Piper Aztec is perhaps his greatest legacy. After returning from the Navy, Dr. Bedosky took up flying lessons and earned both his commercial pilot certificate and instrument rating. Piloting evolved into a life-long passion a passion Dr. Bedosky proudly cultivated 40 years of family memories with; a passion he later came to share with his eldest son, Richard II. In February 2016, Dr. Bedosky donated that beloved Piper Aztec to SUNY Broome Community College after learning the school was in need of an airplane to launch its aircraft maintenance degree program. Because of Dr. Bedoskys gift, that program exists today. While Dr. Bedoskys Piper Aztec represents more than can ever be captured in writing, some things can be said for certain. To the people of Broome County, the airplane demonstrates Dr. Bedoskys heart, humble nature, selflessness, and belief in the promise and potential of others. The donation speaks to his strong desire to help the next generation by giving back to the very community in which he was raised the community that he so fondly called home for the last 87 years. To his family, the Piper Aztec represents a life so very well-lived a life lived passionately and ambitiously, with steadfast enthusiasm. A life full of love, of family weekends in Marthas Vineyard, and of precious moments shared with the people who brought so much meaning to his life: his wife and children. Dr. Bedoskys donation of his Piper Aztec represents the final glowing chapter of a truly great story. The story of a man who came from nothing. Who, by learning to see himself through the eyes of his mother, was able to rise above his own circumstances to realize a life that had already been deemed impossible for him. The story of a man who came full-circle to donate the symbolic representation of all that he was, loved, and cherished in this lifetime to provide someone else with an opportunity they may not have otherwise had. This is Dr. Richard Michael Bedosky, Sr.s story. An incredible man who is deeply loved and will be inexpressibly missed.

Funeral Information

Funeral services will be held at 10:00am Thursday at Holy Trinity Catholic Church, 346 Prospect Street, Binghamton. The family will receive friends from 3:00pm-7:00pm Wednesday at the Chopyak-Scheider Funeral Home, 326 Prospect Street, Binghamton.
To send flowers or a remembrance gift to the family of Dr. Richard Michael Bedosky Sr., please visit our Tribute Store.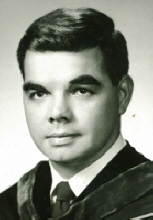 Thank you for sharing your
memory of Dr. Richard
Provide comfort by sending fresh
flowers from our local florist.
No thanks, please don't show me this again.